Where to Find...
The B.A.L.A.N.C.E Book by Jennifer Tuma-Young
14 Simple, Soulful Techniques to Help You Remember Your Awesomeness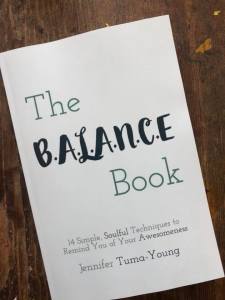 It doesn't really matter what phase of life you are in, whether you have children or pets or a spouse or are completely independent; every woman at some point in her life has felt pulled in a million directions, struggled with making ends meet, lost weight, gained weight, had her heart broken, dealt with health issues, lost loved ones.
In this updated version of Jennifer Tuma-Young's first book, you'll learn even more about releasing stress and answering your call to purpose. The B.A.L.A.N.C.E Book offers 14 simple, soulful techniques to help you find balance, embrace life (in all its ups and downs), and be the magnificently made human being you were born to be. You'll delve deep into personal discovery with fun, introspective activities. This is not a 'makeover book', but rather a book that will awaken you!
Purchase the Book at any of these fine retailers: